HYMAX COUPLING large diameter
Wide-range HYMAX Coupling, used for section replacement, connects two pipes of the same or different OD pipe circumferences and materials, up to 54mm range.
Sizes 350mm-600mm are standard and 650mm – 1500mm are MTO (Made To Order). Contact Krausz For Details.
NOTE: HYMAX PRODUCTS SIZE 40 MM AND LARGE DIAMETER PRODUCTS SIZES DN 350 TO DN 1500 ARE STILL USING THE 2-LAYER DETACHABLE GASKET.
NOMINAL DIAMETER
WORKING PRESSURE
TORQUE
TOP FACING BOLTS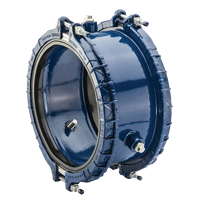 NOMINAL DIAMETER:
350mm – 600mm
NOMINAL DIAMETER:
650mm – 1200mm
WORKING PRESSURE:
10-12 bar