management team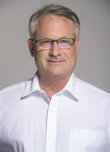 PHIl ELOVIC – General Manager
Phil Elovic joined Krausz as General Manager in August, 2019.
Phil has over 25 years of leadership experience in both the water and technology industries. Prior to joining the company, he served in multiple executive roles where he was responsible for general management, strategy, and business development for leading global companies.
Phil's background also includes diversified experience in engineering and product development in several technologies and applications, including AI, machine learning, cloud computing, process and piping design and product engineering.
Phil is a graduate of the Technion, Israel in Mechanical Engineering.

AVI CHIPROOT — VP ENGINEERING AND R&D
Avi has over 30 years of experience in the water industry. Prior to coming to Krausz, he worked in the fields of electronics, QA and C&C.
As VP development and engineering at Krausz, he is responsible for developing and creating innovative products for the water and sewage industry, with more than 60 original patents. He is in charge of research & development, developing new products and technologies, development and implementation of new manufacturing processes and machinery.
Avi is a graduate of Tel Aviv University in Practical Engineering.

SHAI ATTIAS – CFO
Shai has over 15 years of experience as a CFO during which he gained substantial experience in industrial, commercial, private and public companies.
As the company's CFO, Shai is responsible for managing all financial, commercial, accounting, pricing and reporting matters, along with insurance control and risk management at Krausz and at its US subsidiary.
Shai is certified as a CPA by the Israel Auditors' Council and holds a BA in Accounting and Business Administration and an MBA specializing in finance.
CALANIT BAR-AM – VP MARKETING & BUSINESS DEVELOPMENT
Calanit has over 15 years of broad international business experience integrating strategic planning and execution, marketing and sales in various sectors, including high-tech, industrial and water. Her professional achievements include establishment of joint ventures and collaboration agreements with international partners, establishment of operations in new markets, and management of successful M&A processes.
Calanit is responsible for managing global business development activities, marketing and product management as well as oversees sales in the North American market. 
Calanit holds a BA in Economics and an MBA, both from Tel-Aviv University; and a PhD in Economic Geography from the University of California Davis.

MICHA KIMCHI — COO
Micha has over 20 years of serving industrial companies with a wide international spread.
As Krausz COO, Micha is responsible for implementing Operational Excellence within the company.
With his comprehensive vision of Operational Management, combined with customer-oriented experience, Micha brings a significant contribution to the growth of Krausz industries.
Micha holds a BSc. in Industrial and Management Engineering from the Ben Gurion University and an MBA From the Ono Academy institute.

IRIS TAMIR – VP HUMAN RESOURCES
With more than 20 years proven experience in HR senior roles, Iris heads Krausz human resources. She has led human resources initiatives across both startups and global corporations, developing HR strategy, implementing organizational processes, and managing staffing and budget resources. Iris has initiated organizational changes, including the oversight of aspects of mergers and acquisitions and establishment of talent and leadership development programs.
Iris holds a B.A. in Behavioral Science from Ben Gurion University and an M.A in Organizational Sociology from Bar Ilan University.
DROR LEV – SALES & MARKETING MANAGER, EUROPE
Dror is considered a leading expert in product applications. He has been with Krausz for 20 years and has acquired considerable field and training experience in the water industry, before going into sales.
He heads the activity vs. Krausz's European distributors, local market sales in Israel, as well as developing new markets.