Join
Addressing every coupling need, Krausz provides a variety of wide-range coupling solutions, including the game-changing Krausz HYMAX® family and the REPAMAX® family that provides a multi-functional solution for both joining and repairing pipes. Designed to fully address the needs of the customer, Krausz coupling products are recognized worldwide for their innovative design, ease-of-use, long-term durability, and cost-effectiveness. Time-tested and field-proven for over 20 years with millions of installation worldwide, our coupling solutions enable you to respond faster to any situation.
Patented progressive pressure-assisted gasket allows dynamic deflection of up to 4° on each end (HYMAX) and 3° on each end (REPAMAX),
Reducing the risk of damage and cracking from post-installation ground shifts and temperature changes.
Patented gasket strengthens its hold on the pipe as internal water flow increases, preventing axial pipe pullout.
Adapts to slight imperfections in pipe shape, for optimum fit even when one or both pipes are slightly oval.
For more product information about the product families please refer to the product family pages.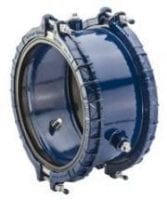 HYMAX COUPLING large diameter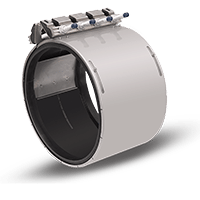 REPAMAX®