Repair
Highly effective and efficient, Krausz wide-range pipe repair solutions have the ability to repair almost any type of crack, break or hole in water and wastewater pipes.
Known for their versatility and flexibility, Krausz REPAMAX® / REPAFLEX® solutions save time, cost and effort, even under the most extreme conditions, and are excellent for both JOIN and REPAIR situations. These durable products have demonstrated their efficiency even under harsh or corrosive ground conditions.
Krausz EZ-MAX® wide-range clamps repair holes and longitudinal cracks in water and wastewater pipes. Their unique wide-range design substantially reduces inventory and on-vehicle stock as one Krausz EZ-MAX clamp can replace up to three standard competitor's clamps. Highly reliable and easy to install, EZ-MAX is both extremely efficient and very cost effective.
Both product families have these advantages –
Lightweight, with a single top-facing locking mechanism or two top-facing locking mechanisms in larger sizes.
Body made of 100% stainless steel.
Unique, patented bolt holder enables one-person installation.
Monoblock design delivers fortified strength and enhanced flexibility.
Advanced Molecular Anti-Galling (MAG) unique dry treatment process on nuts and bolts, based on embedded zinc, prevents galling and enables repeated bolt tightening; it also eliminates the need for grease, preventing dust and dirt build-up.
For more product information about the product families please refer to the product family pages.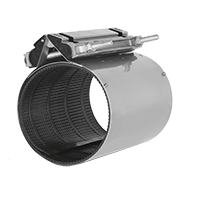 EZ-MAX®
REPAMAX®