HYMAX® 2 LONG BODY
Wide-range HYMAX 2 Long Body Coupling, used for pipe section replacement, connects two pipes of the same or different pipe circumferences and materials, covering a wider gap between the pipes, with up to up to 32 mm range.
Long couplings are typically used when there is uncertainty regarding the gap between the pipes.
HYMAX 2 is based on the original game-changing HYMAX that has been field-proven in millions of installations worldwide:
HYMAX 2's patented flip gasket can be easily flipped in or out to accommodate different pipe OD's
Advanced no-tear gasket technology for maximum installation efficiency
NOTE: HYMAX PRODUCTS SIZE 40MM AND LARGE DIAMETER PRODUCTS SIZES DN 350 TO DN 1500 ARE STILL USING THE 2-LAYER DETACHABLE GASKET.
NOMINAL DIAMETER
WORKING PRESSURE
TORQUE
TOP FACING BOLTS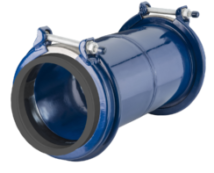 NOMINAL DIAMETER:
50 - 300 mm
TORQUE:
SEE PRODUCT SPECIFICATIONS